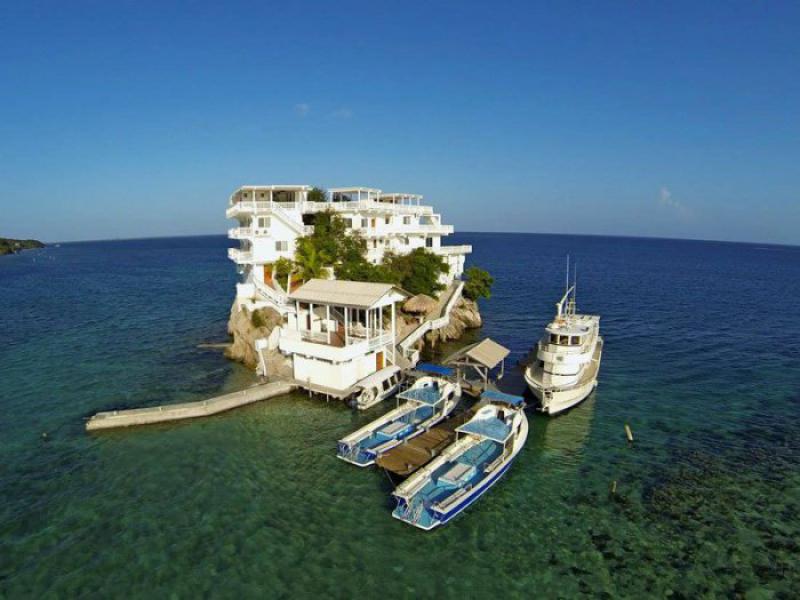 In a time of total globalization and digitalization of the world there aren't too many secluded, cozy and peaceful places left for us to enjoy and get a real relaxation. And this little piece of heaven located in the heart of the Caribbean Sea is an incredible chance to enjoy true bliss of your holiday.
Located just 70 km off the north coast of the beautiful Honduras we stumbled upon the Villa on Dunbar Rock. This is truly every diver's paradise, as it is gorgeously surrounded by the Mesoamerican Barrier Reef and is just about 10-12 km away from one of the most popular diver destinations – Roatan.
It consists of 8 of some of the most unique and luxurious suites that you can find and it is an outstanding mixture of adventure and heavenly relaxation. The all-inclusive villa has some amazing, breath-taking views and one of the best thing about it is that it comes with staffed PADI-certified instructors, marvelous beach and an infinity pool with its own outdoor wet bar. In order to reach this utopic almost magical place, visitors have to fly into Guanaja Islands where there will be a team picking them up by boat and taken to the incredible rock. But I truly believe it will be pretty well worth it! Just imagine spending a week waking up to this mesmerizing killer view!