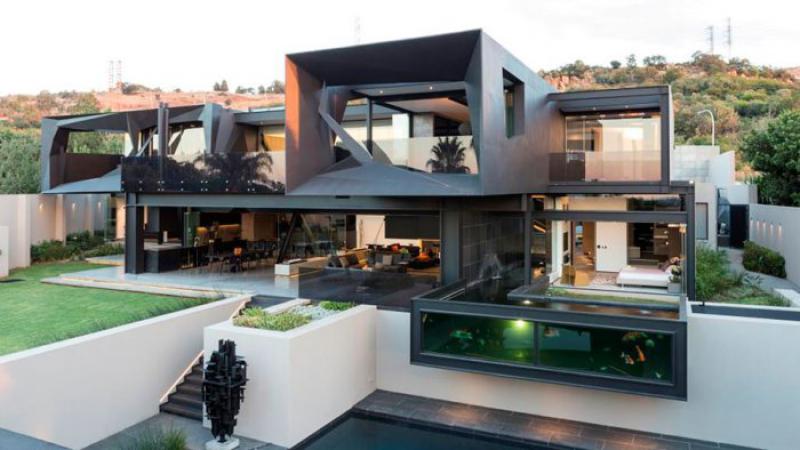 There is nothing else in the world that says luxury and glamour than a building that has a perfect indoor – outdoor connection. Just see how much an average hut in Bali costs at the prime season. It is a great pleasure having the modern and sophisticated facility with four walls that is blended so beautifully with the gorgeous outdoor nature. Kloof Road house is a magical and special place not only for its incredibly modern exterior and interior, but also because every room of it is connected to the nature outside. The architects of Nico van der Meulen have created something outstanding with the idea of a perfect balance between indoor luxury and beautiful outdoor nature of South Africa.
This house has such an easy passage from any room directly to the great outdoor that is connected to the back yard. A transition from the inside to the outside like you have never seen before with the help of some frameless glass doors and solid concrete floor.
Nico van der Meulen Architects was founded way back in 1984 by Nico himself. The house was designed by his son Werner van der Meulen and the interior was masterfully done by the M Square Lifestyle Necessities which is a design showroom that was created by Nico's wife Santa and their other son Rudolph.
It almost looks like the architects took a page out of Frank Lloyd Wright on how to merge the man-made and the nature but without the whole camouflaging of the building and just leaving it manifesting in its awe-inspiring glamour. And seems like it was a huge success with its smooth steel frame, the pillar outposts and the frameless glass walls, the simplicity of the furniture and the great balance between outdoor and indoor, this house is an amazing mixture of balance and a true masterpiece of art and architecture around the world.  
Here are some more photos of this amazing house for you to enjoy: