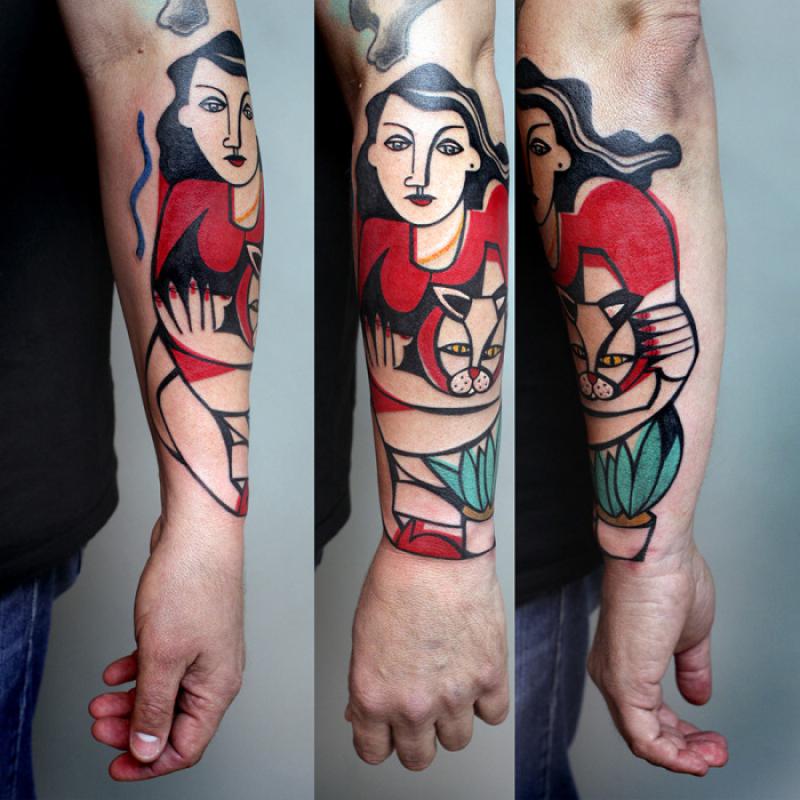 I think that everyone will agree with me when I say that the art of tattooing is absolutely stunning and deserves all the praises it gets in recent years for the amazing skill, patience and creative mind that it takes. And it goes without saying that is by far the hardest form of art to perform, as in here you can't just scratch everything and start over – after all, they are putting ink into somebody's skin! Today we are going to take some time to introduce you to the German tattooist Peter Aurisch who has definitely leveled up this gorgeous art with his cubism technique put into his tattoo designs.
Proving once again how amazingly talented he is, his work is an absolute improvisation without any planning whatsoever. It is clear that he gets his inspiration from great artists like Picasso and Klimt. Based in a secluded, almost secret studio just a little outside of Berlin, Germany, Aurisch makes some of the most original and innovative tattoos in the whole city, (maybe even the whole country) and Berlin is considered to have somewhere around 2,000 tattooists – now isn't that something?! We already said that Peter likes to improvise and to go without pre-planning the whole thing. He wants the client to get there first and then starts discussing and drawing. And even then, Aurisch enjoys working freehand. Yes, that means he doesn't use any sketches or any kind of source material, he wants to get the image out of the client's head and draws it deep down from his vivid imagination. All of this is one giant process that results in an incredibly original, full of detail, geometric tattoos that are clearly a page out of Cubism.
But Aurisch is not just a tattoo artist, he is also a great printmaker and a painter and again when observing his work (this time not on skin) we can still get a clear idea that he takes after the amazing work of Gustav Klimt and the infamous cubism of Picasso. When he was spotted somewhere around 3 years ago he was a very promising young artist and to see what an unbelievable evolution and transition he has made is fantastic and it gives us a great joy.
He named his studio (outside of Berlin) Johnny Nevada where alongside Jessica Mach (an artist you should also definitely see). He tends to stay busy as he takes only one appointment daily, so if you want to get the perfect tattoo, you should hurry up.
Here's some more of his astonishing work and his Instragram profile for more amazing tattoos:  https://instagram.com/peteraurisch/