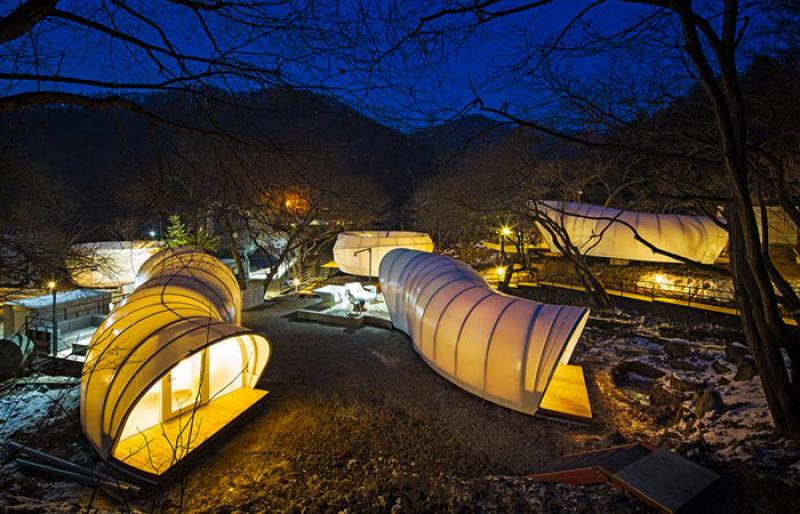 If you are a camper or a festival lover or just having difficulties planning the next family vacation you should definitely check this out.
The designers Jeong Han Kim, Sungha Lim and Hyumook Lim got together and came up with a brilliant idea of an extravagant outdoor tent. They call it the Doughnut Tent!
With this genius idea full of innovations there is a good chance camping will never be the same.
It is obviously shaped as a doughnut instead of the more traditional square or round tents.  But this shape should not fool you. It doesn't feel as if in a tube or a slide, it is so much spacious than you think. And you can place it however you want, making it convenient depending on your terrain. It can accommodate up to 4 people. It can even be collapsed if in a hurry, it provides a solid protection from the wind.
There are four different shapes in which you can set it up, each one of course with an advantage of its own.
First we have the "I" shape, which is basically a large single tube (in the shape of the letter I) that gives you a whole lot of space.
The second one is the "C" shape. Its curve will relieve you from the relentless hard blowing wind.
Number three and four are the "O" shape and the "S" shape, but in order to "bring it full circle" and build those you will need two Doughnut Tents.
Without all those screws, sides and bars of the ordinary tents will save you lots of time and stress.
Because of its name and shape it only comes in yellow but it will undoubtedly look great in other colors too.
Good looking, stylish, a bit odd but absolutely useful, the Doughnut tent's awesomeness is undisputed and is definitely a must-have.