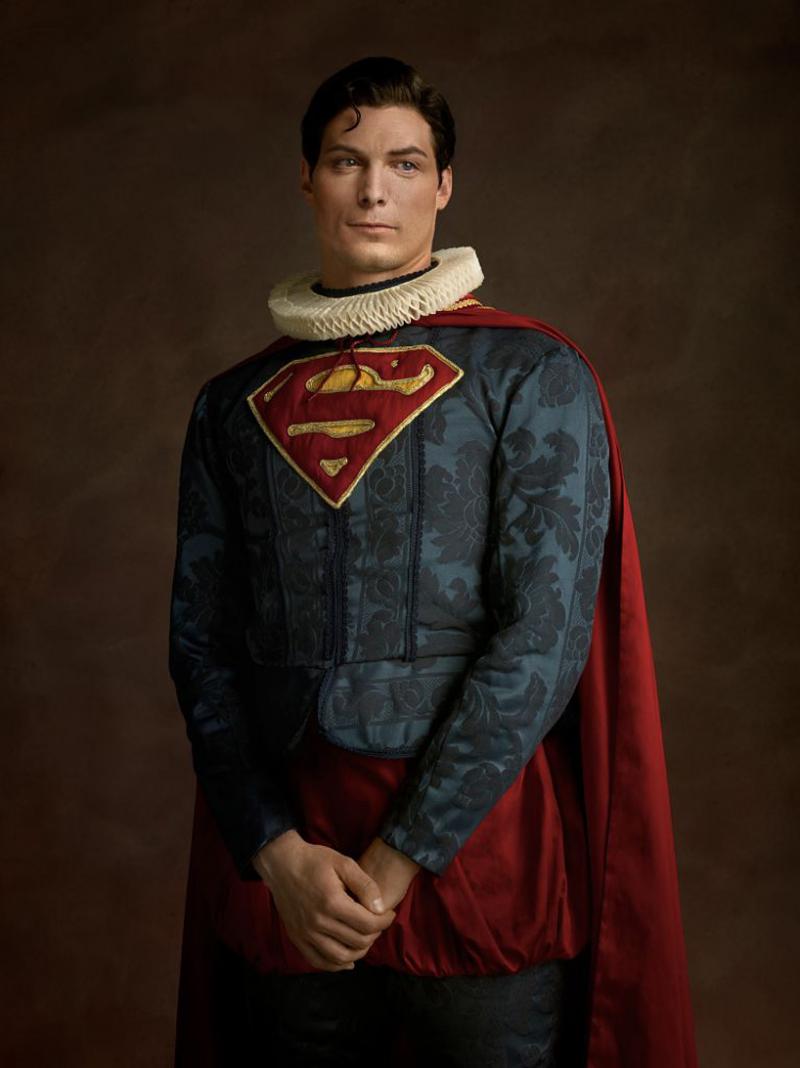 It seems like the superhero theme is the best-selling trend in recent years and instead of the public getting weary and tired of it, they seem to crave more and more which in fact is more than welcoming news for the studio heads that reprise the unbelievable wonder stories of our beloved superheroes. This is also the theme that French artist Sacha Goldberger used for his latest photo shoot collection. Prepare to be amazed at how beautifully Goldberger has mixed fantasy superheroes and villains with the portrait technique and wardrobes of the 17th century.  
Super Flemish, as he very appropriately named his series, mashes up the legendary characters of the American comic book culture (and recently cinematic universe) Batman, Superman, Wolverine, The Joker, Ironman and even Darth Vader with the shooting style of Flemish fine art paintings of the rich and noble in the 17th century (famous for the very low lighting and some masterful play with light and shadows). Not only the costume design of the of the heroes is so incredibly creative – matching the needed requirements to the regular clothing style of the 17th century but the heroes and foes themselves look exactly, almost identical to their counterpart actors that play them in the movies. It is a truly unbelievable series that will definitely bring a wide smile on your face.  
Here's how Goldberger himself described the inspiration for the series: "These characters have become icons to reveal their humanity: tired of having to save the world without respite, promised to a destiny of endless immortality, forever trapped in their character. The superheroes often live their lives cloaked in anonymity. These portraits give them a chance to fix their denied narcissism. By the temporal disturbance they produce, these images allow us to discover, under the patina of time, an unexpected melancholy of those who are to be invincible."
As you can imagine it was an enormous hit with the audience going wild from the accuracy and masterfully done work of the French artist, so after that undeniable success it was almost immediately followed by a second, extended part of those same heroes but in a more like family portrait environment. Again, the style is the same, the costumes are all so powerful, witty and incredibly done and the team has a few new editions like: Wonder Woman, who appears alongside fellow heroes Captain America and Superman in a recurring theme of red, white and blue, shown as America's greatest defenders and the now married couple of Han Solo and princess Leia, posing together for a family portrait.
This whole event was a joint effort of more than a 110 people, including the doppelganger models to achieve the maximum accuracy of the characters and the costume designers and makers, which makes it an instant piece of art that well-deserved of our upmost admirations  
Here's Goldberger's whole collection for you to enjoy and if you like what he did you should check out his website: http://sachagoldberger.com/portfolio/