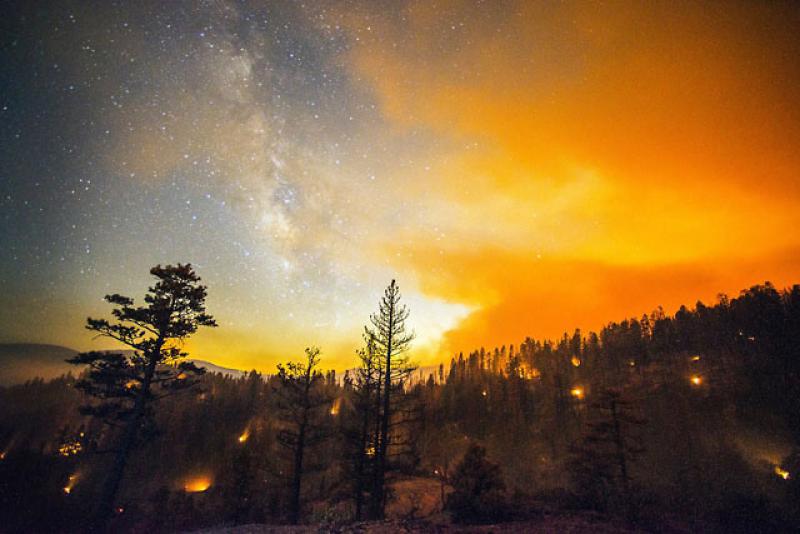 There are many different ways to make art. Artist and photographer Stuart Palley found a very unconventional and innovative way to make his art – through chaos and destruction. He managed to capture some breath-taking images of the wild fires in California and the hard work that local firefighters trying to put them out. Palley's creative long-exposure technique proves to be an amazing way to capture the flames in all their magnificent blazing glory, as they spread through the land, catching the eye of the viewers in a mesmerizing and even hypnotizing ways. The collection that he made from all these images he called with the very beautiful and catchy name – Terra Flamma.
The Terra Flamma series turned out to be a great hit and was published in various newspapers and all kinds of other publications around the globe. Palley even took the whole thing to another level by creating a Kickstarter fund and managed to raise over 10,000 U.S. dollars in order for him to keep shooting those images and even published a photo book.
Over the course of a few years, the talented photographer has captured almost 50 different wildfires in the area of California. An astounding effort which turned him into a well-known name in the business. Many of you will disapprove of his methods and even go as far as calling him reckless. But he is nothing close to the daredevil he may seem at first sight. He did everything in his power to avoid incidents and even went through a complete class on how to stay safe that was conducted by the U.S. Forest Service. Of course, avoiding the danger doesn't mean there is none but the audacity and incredible skills of this photographer are undeniable and his work is an absolutely astonishing and awe-inspiring hit wherever he goes.
If you enjoyed his work, you can also go and check out his website to get a glimpse of his other work: http://stuartpalley.photoshelter.com/
Here are some more of his incredible photos of the dancing fires in California: