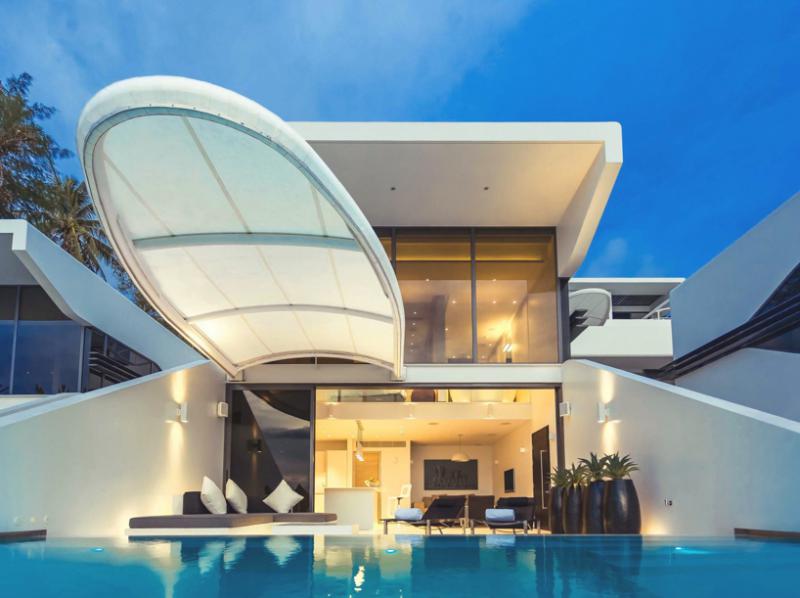 I've seen a lot of DIY projects recently but I have to say that this most definitely blew my mind. The "Kata Rocks" project is an absolutely original piece of art, designed especially to blend to evergreen themes – contemporary and tropical in a way (in my opinion at least) never seen before. The whole idea was conceived as a highly luxurious apartment resort, that puts its focus mainly on the simplicity and clean pure elements.  And of course – it is all about the view. The whole concept is working perfectly with the stunningly beautiful view. The project consists of a total of 34 gigantic apartments, penthouses and a few duplexes, all of which have enormous terraces that exploits wonderfully the nature surrounding them. And to top all of that, the resort has every special extra of a luxurious five star complex.  
Held by the incredibly massive stones right at the beginning of the shoreline, with extremely precisely placed ten three-dimensional blocks put there in order to get the absolute maximum of that killer view over the marvelous Andaman sea. Of course, some computer modeling has been in motion to improve and ensure the depth of the detail and precision of the design.  
On the other hand, exactly on the waterfront are placed four astonishing ocean lofts that will assume the role of a kind of honeymoon suits, alongside the intriguing "Kata Rocks Club" with an amazing 35 meters long swimming pool that reach the very rocks that the extraordinary resort has been named after.  And if your knees are not weak enough already their proverbial crown jewel are the top two floors of every block there are the amazing spacious ocean penthouses with the highest level luxury possible and their name kind of suggests it – "villas in the sky". Hyped enough now? Yeah, that's what I thought.
Overall this is probably the very definition of luxury and class. An amazing project that will undeniably profit a lot and it will most definitely take its place as one of the best resorts in the world.