You feel like you have so many things to say to the world and you want to be able to share your thoughts with as many people as possible? Writing has always been the best way to put your thoughts in shape? And what if you could combine all this and put it to good use, monetizing your skills and passion for creativity?
The Internet of today gives a growing number of people the opportunity to do precisely that – to monetize their hobbies. From photography to creative writing, crafts and music to streaming video – the chances are all around us. So let me tell you about the perfect place to start if you were an aspiring online writer and you are making your first steps in the vast world of freelancing.
What is DailyTwocents?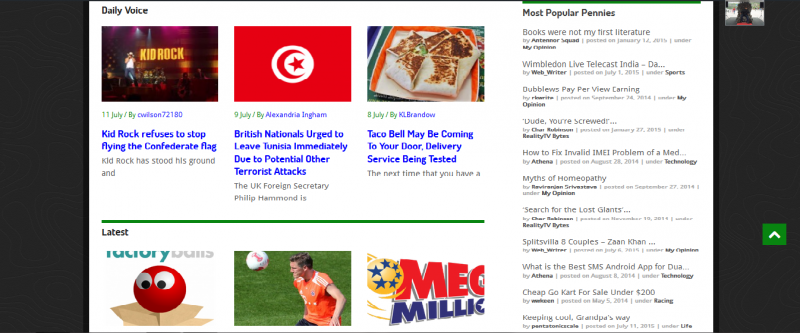 DailyTwoCents is a relatively new writing community that gives people the chance to monetize their content. In
other words – you get paid for what you write. It is actually as simple as that. You do not need to pay anything to get started, you do not need a subscription plan or investments. What you do need is a solid command of English, fresh set of ideas and the mindset to have fun and learn new things.
The site offers its writers a fixed pay rate - $2 per thousand views on your articles. This gives you the great chance to concentrate on the most important thing – your writing and interacting with your audience. For people who are very active in the social media and have a large following, the fixed pay rate gives a great opportunity for nice residual income – you just have to deliver interesting and engaging content and provoke your followers to read it.
Why is DailyTwoCents the perfect place for beginners?
If you are making your first steps as a freelancer and you still get used to the drill and requirements, this should definitely be the site to begin with for a number of reasons. First of all, the content requirements are relatively easy – your posts should be longer than 100 words (really, these are just 4-5 sentences!), they should be written in English and you should avoid topics like alcohol, drugs, gambling, pornography and racism. Apart from that, you can write about pretty much what you like – news, sports, entertainment, history, personal stories, home improvement. This is what makes the site so great – it does not limit its writers concerning topics.
The second reason why DailyTwoCents is so great for beginners is the numerous tutorials about pretty much everything. You are not certain how to upload a photo or a video? You do not know what tags are about or how to use them better? Be sure – there is a detailed tutorial that will walk you through the process of creating fascinating and engaging content. To make matters even better – many of the leading writers in the community regularly share their experience and what they have learned along the road. So if you want to learn from the pros you just have to follow the daily feed of articles!
The third and perhaps most important reason is the community. I have been a part of some of the leading content websites like InfoBarrel, HubPages and Bubblews but nothing comes close to the sense of collegiality, friendship and the sincere urge to help that dominates the spirit of DailyTwoCents. Just post a question in the website's Facebook page and you are likely to get an answer in less than half an hour. You can also rely on the support and encouragement of hundreds of your fellow writers!
Why is DailyTwoCents different?
The website is a part of the Harlow-McGaw Media Group that offers its writers huge range of opportunities to monetize their expertise. In 2015 Michelle Harlow and Danielle McGaw – the two owners of the website – took the next step in the development of their online writing community by launching a number of niche sites that specialize in crafts, entertainment lists and even creative fiction. So once you make your first steps and you feel like you have mastered your craft and honed your skills enough you can take a leap and start evolving to the next level.
Arguably the most original and surprising fact about the site owners is the level of commitment and dedication to interacting with their writers. There is no other writing website of this caliber that gives you the option to make a choice about its future in every aspect – even its outlook, its monetizing system and the prospects of development. Danielle and Michelle regularly put the important decisions regarding the community to vote – so that every writer, no matter how many posts they have produces, can have a say about the future of DailyTwoCents in particular and the Media Group as a whole!
Now think about that – to have a real impact on a quickly growing website, to have the chance to interact with experienced online writers, to make your first steps in a friendly and supporting environment… Oh, and to make a few bucks while you do all that! This might be the best opportunity you have encountered in a very long while!