Emma Stone comes from Scottsdale, Arizona. Although she began acting at an early age, Emma made her first memorable appearance on TV when she was 16. She took part in the show In Search of the Partridge Family. Before she makes her mark on the silver screen Stone had a few more appearances in wide range of TV shows. Among them are Malcolm in the Middle and The Suite Life of Zack and Cody. Today, with leading roles in dramas like The Help and blockbusters like The Amazing Spider-Man, Emma Stone has proven herself to be an amazingly talented and one of the highest-paid actresses in Hollywood.
If you have any doubts about her talent or beauty, you might want to check our list of Emma Stone's best performances in movies. Her filmography is not that short, for sure. Whether she plays leading or supporting roles, her performances always stand out.
Welcome to the Emma Stone Age.
The House Bunny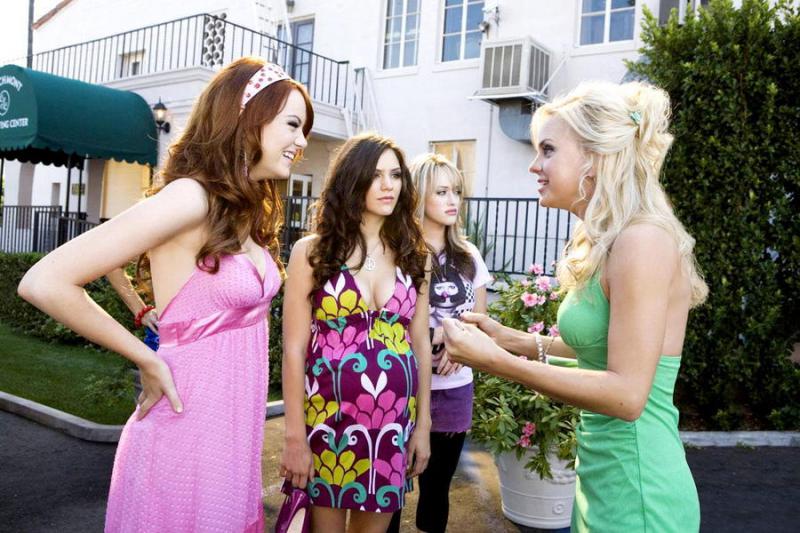 Stone's on-screen character in this romance comedy is a geeky girl named Natalie. The movie doesn't follow a profound storyline but it deserves some credit because Stone succeeds to capture the attention playing a hilarious charming and a little naive heroine. Indeed, with this performance she demonstrated a lot of potential and very good acting skills.
The Amazing Spider-Man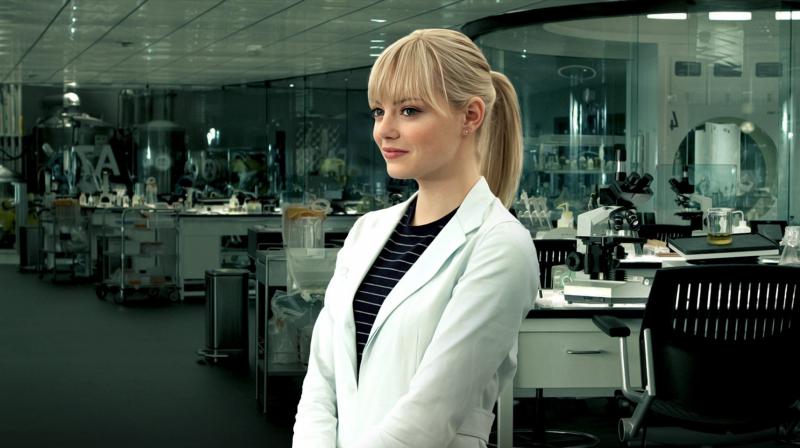 Starring in The Amazing Spider-Man turned out to be her milestone role. It came as a big surprise for the audience to see Emma not playing the well-known redhead character Mary Jane. Instead, she appeared as the blond Gwen Stacy and delivered highly remarkable performance  in  2012's Marvel adaptation. The movie, directed by Marc Webb, turned into a huge commercial success and made Emma an A-list actress.
Gangster Squad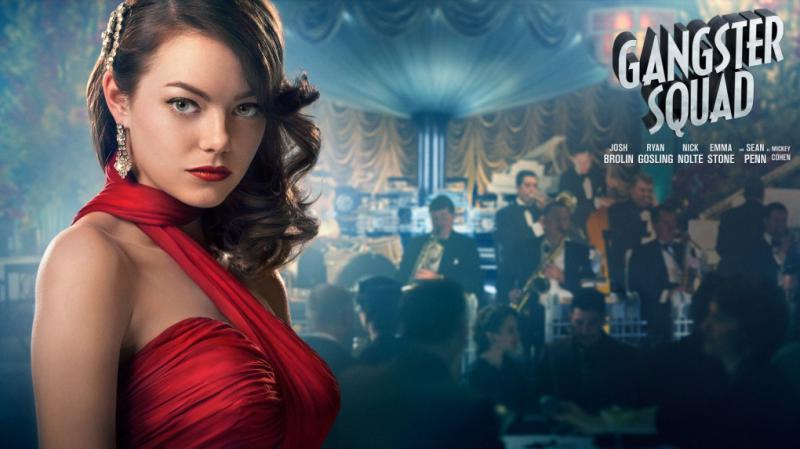 In this classic film noir, portraying life events of the vicious mobster Mickey Cohen (Sean Penn) Stone brings her charismatic confidence playing femme fatale Grace Faraday. She is Mickey Cohen's girlfriend, who eventually falls in love with a sergeant from local police and this is how Emma Stone becomes Ryan Gosling's on-screen love interest for the first but (luckily) not the last time. For this role she has her trade mark red hair back on track. Although the movie received mixed critic reviews it definitely deserves credit for its remarkable cast.
Crazy, Stupid, Love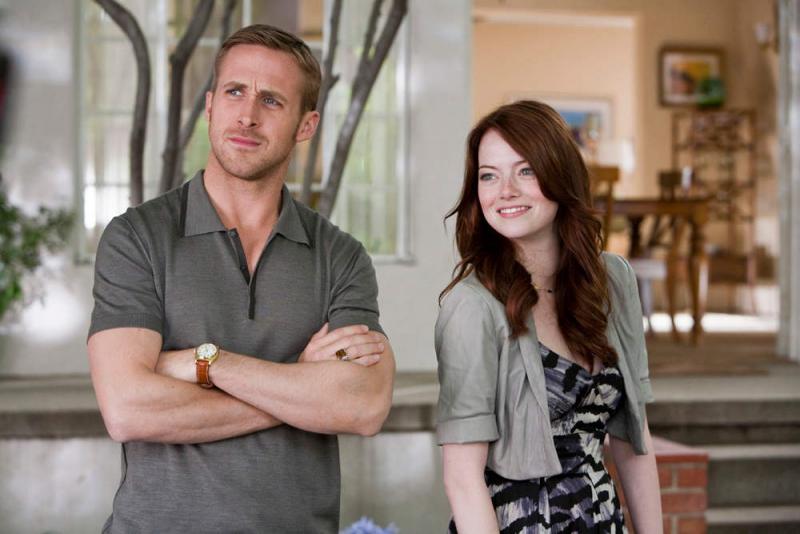 In this brilliant romantic dramedy Emma Stones proves how immensely talented she is. Playing Hannah, Steve Carell's beautiful daughter and Ryan Gosling's love interest (again!), this classifies as one of her best performances ever. Her character is impulsive, friendly, and true-to-life. Although Stone had a supporting role, she succeeded to make it significant and stands out in the stellar cast featuring Steve Carell, Ryan Gosling and Julianne Moore.
The Help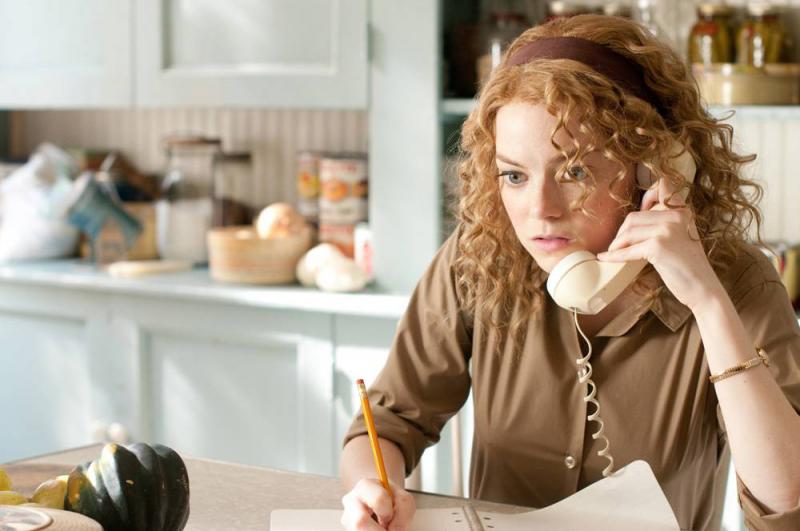 The role of Eugenia "Skeeter" Phelan remains one of her most critically acclaimed performances. Emma Stone's balanced acting and good looks have contributed a lot for the international success of this movie based on the Kathryn Stockett' s bestselling novel. Set in the early 1960s during the civil rights movement Eugenia Phelan had an important story to tell and Stone managed to play it beautifully. The movie describes the racist reality of the time and is filled with dramatic moments. Assumingly, this is the kind of thought-provocative plot that anyone would appreciate. For the great story and fantastic cast, the deeply touching drama received four Academy Award nominations.
Zombieland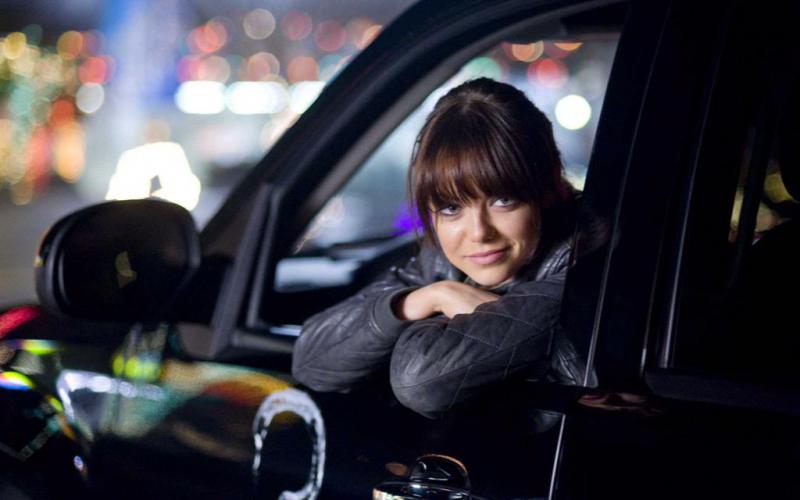 In this zombie apocalypse comedy Stone stars as Wichita, the confidence artist queen. Surprising as it may seem, but this hilarious zombie movie received high critic acclaim and turned into a tremendous box-office success. What made the film that awesome were the memorable characters played by some of the most talented actors Woody Harrelson and Jesse Eisenberg. Furthermore, Stone, for one more time, showed that she is amazingly good at her job. Her heroine Wichita is insanely awesome to observe. The storyline may not be as versatile as many might have expected in the first place, but the characters and their dialogues manage to draw the attention.
Birdman: Or (The Unexpected Virtue of Ignorance)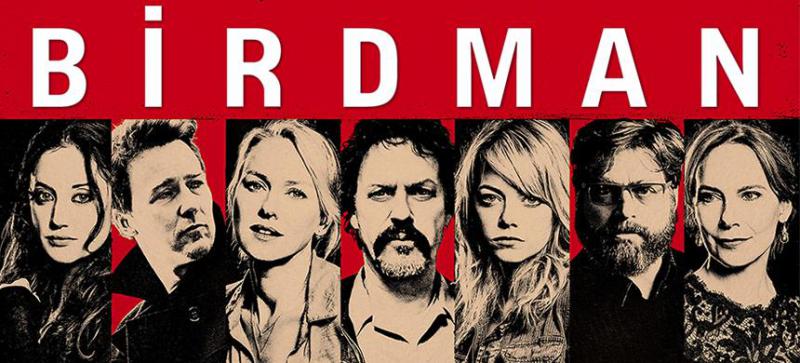 Emma Stone demonstrated again her amazing acting talent in Alejandro González's ambitious black comedy Birdman. Her role is quite different from the usual romantic comedy heroines she used to play. She stars as Sam Thomson, a recovering drug addict. She appears to be daughter of an actor who used to be very successful long before playing iconic comic superhero character (Michael Keaton). For this role she goes blonde again just like in The Amazing Siper-Man. But even if she is not with her trade mark red hair she still dazzles with charm and fantastic acting. Unsurprisingly, her performance received an Oscar nomination for the Best Supporting Actress
Upcoming movies with Emma Stone in 2015:
Irrational Man, directed by Woody Allen, featuring Joaquin Phoenix and Meredith Hagner
Aloha, directed  by Cameron Crowe, featuring Bradley Cooper, Rachel McAdams, Bill Murray, John Krasinski and Alec Baldwin