Every truly beautiful home needs to have a very strong relationship with its exterior. When we are talking about a big houses out in the open somewhere surrounded by nature it is much easier, for they have the luxury and space to have a whole garden. But what do you do when you have just a small and pretty limited living space? Let me tell you, it is all about how exactly you will use and arrange the space that you have. It doesn't even matter if it is a simple balcony or just some space on the roof or even a nice spacious ground area, the arranging and decorating are the things that matter. You may have the biggest terrace with the most beautiful view and if you mess it up…well, it will still be a giant terrace with a killer view but arrangement and decoration are really vital to acquiring the best possible both stylish and classy look for your terrace. So, here is a list of some of the best arranged balconies we could find out there with a nice mixture of both new, modern touch and some traditional and even vintage designs as well. After all, diversity is key!  
Big Spacious and Green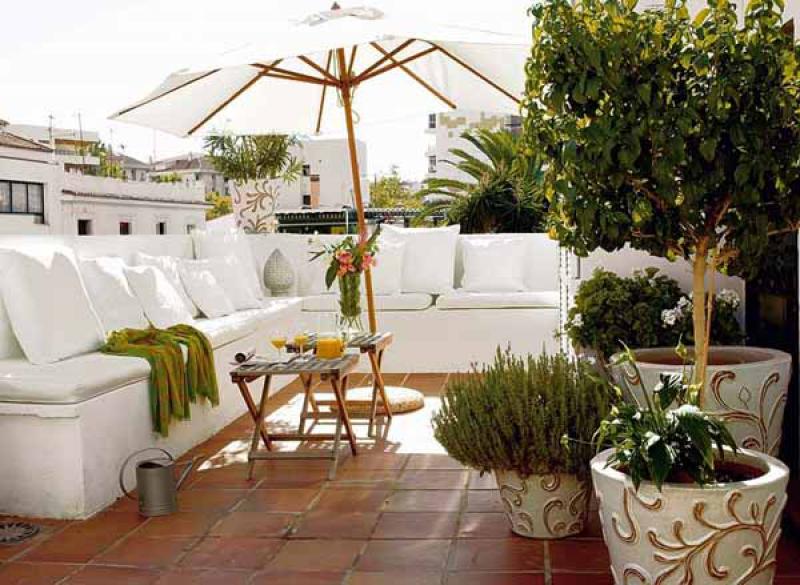 If you have a rather large space on your terrace you should go for something like this. A giant corner couch with a few cute breakfast tables and an umbrella to keep you from hot summer sun sound is always a good idea, that of course if you have the space to pull it off. Also, make sure you fill the rest of it with as many plants and trees you can. Green is the way to go! 
Plain and Simple but Classy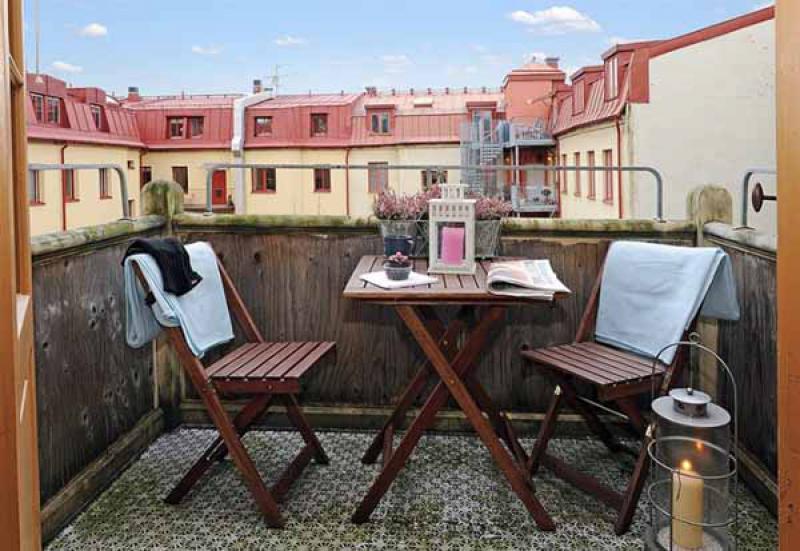 If you have just a little cubical like space in your apartment looking at all the other "same looking" buildings, don't fall into despair. There is a way to make it look nice and cozy. Make it a little vintage, get some wooden planks and do the inside of the balcony wall. Then get just some two simple wooden chairs and table, maybe a nice old candle lamp to keep the romantic look, maybe with a feel of the early 20's. 
Fun by The Pool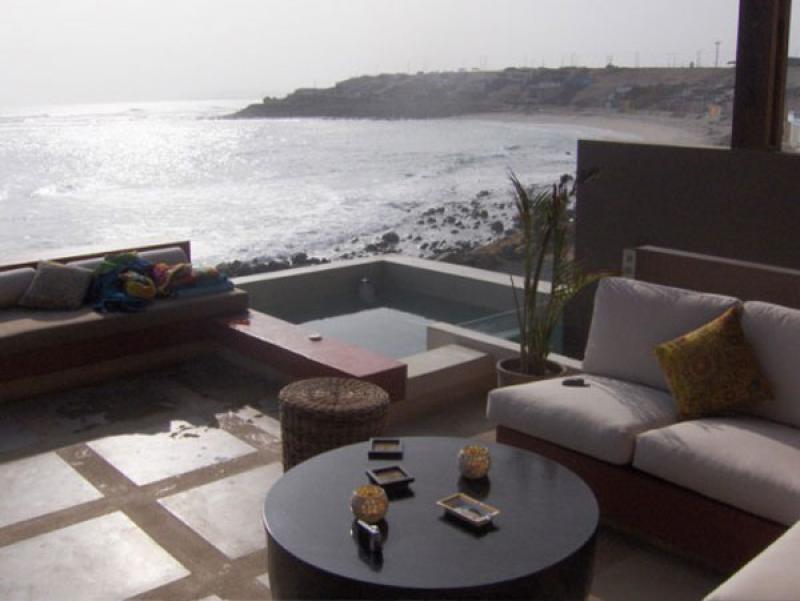 If you've got a crib by the sea or a lake or even the ocean and is big and have lots of space to work with, then this is the one for you. Why not build a pool at the corner and then get two separate couches – one by the door and the other by the pool for. Alongside a nice little table and maybe a few plants to get a final touch, this is going to be the greatest place to get some friends together. Why the pool when your view is the ocean you ask? Well, because you can! 
Wood and Cushions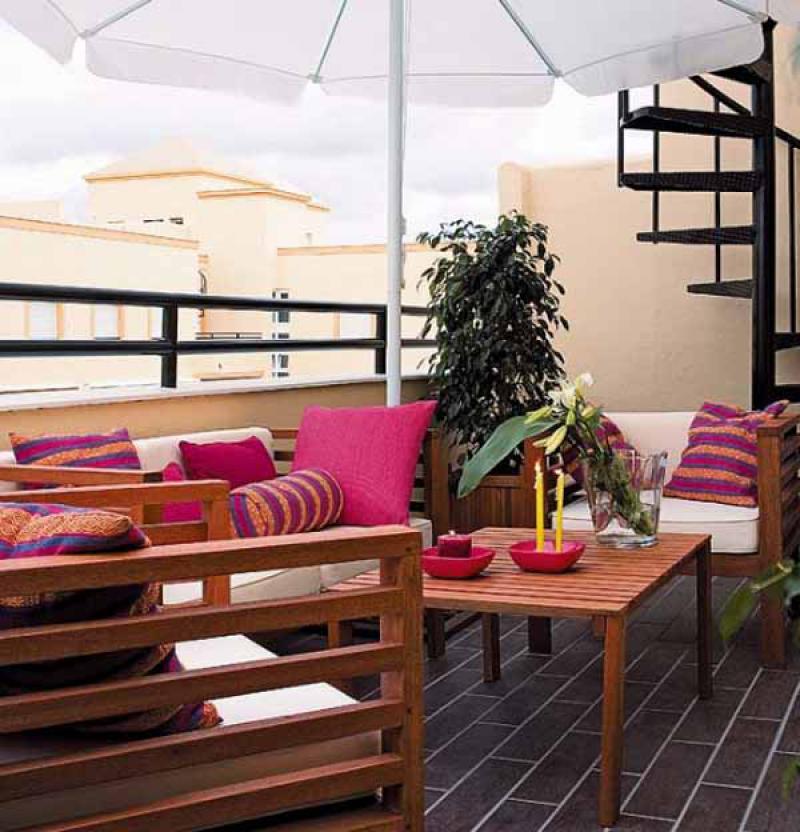 This is again a perfect example for a rather spacious terrace. If don't like the idea of one giant couch and prefer a few separate smaller chairs and one small sofa, this is the right choice for you. It's best to get wooden chairs and sofa with a wooden table and maybe put some colorful cushions to make them nice and comfy. That way you keep the look cool, fresh and very casual. Again, the umbrella and the plants are a pretty good idea. 
Be Resourceful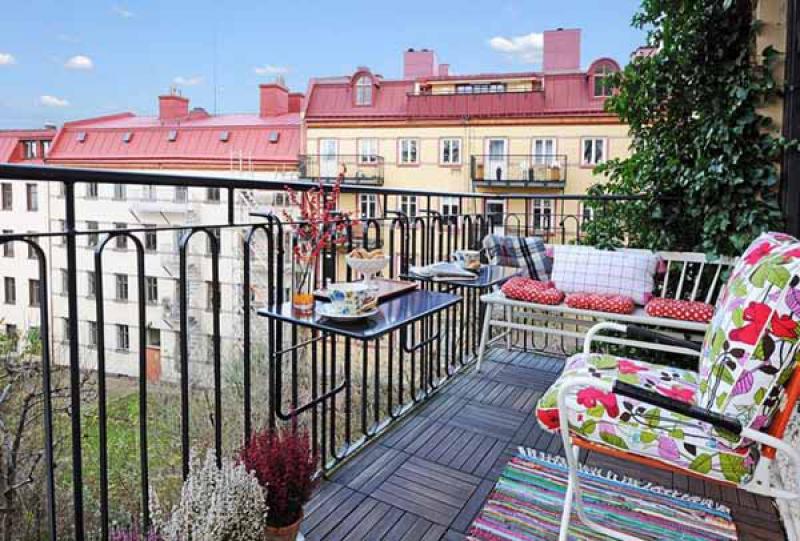 When you have a medium size terrace but you want everything. With the couch and the tables and the chairs but you just don't have that much space. Use your imagination and get a nice bench with a few chairs. Decorate them with some casual colorful cushions and install a sort of floating faux table into the balcony to save some space from the actual table you originally wanted to put and there you have it. Of course, as always plants are great finishing touch. 
The Chill Balcony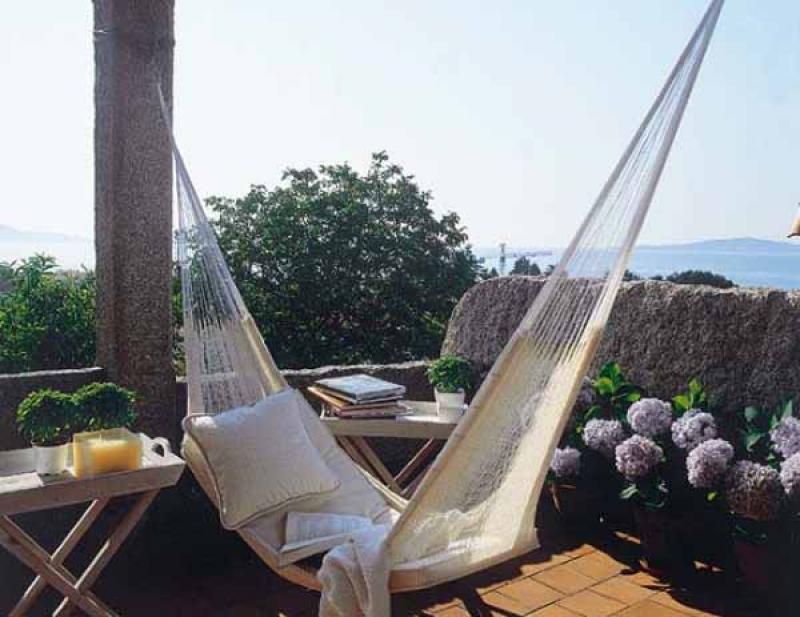 If you're not a fan of big loud gatherings and you want to make your terrace into your own personal fortress of solitude, this is just the thing you should do. Surround yourself with lots of various and colorful plants get a nice big hammock over there with a tiny "breakfast in bed" kind of table for your coffee and enjoy your book under the sun in your own temple of peace.  
Closer to Earth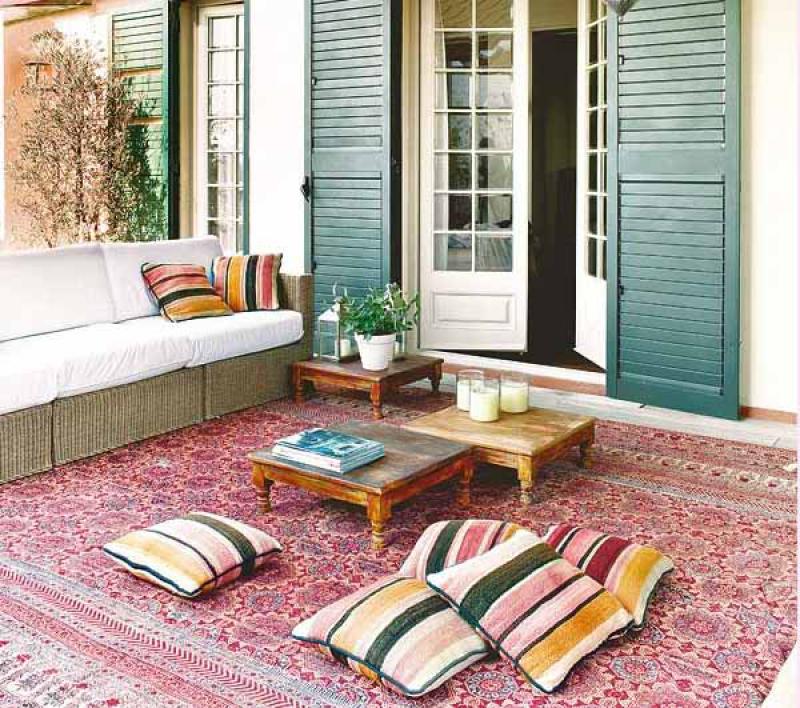 This is a great solution for your summer villa. If you don't have enough space inside or you just don't want to spend the hot summer days inside, then you can just make the balcony an extension of the house. Put that old family carpet on the ground, a few tiny tables and spread some cushions around them and you have the most intimate and close environment right there on your balcony. Get a nice big couch on one side for the ones who don't enjoy sitting on the ground and there you have it. Lots of space to sit, more people to come and everyone is happy. (except when it rains) 
Keep it Simple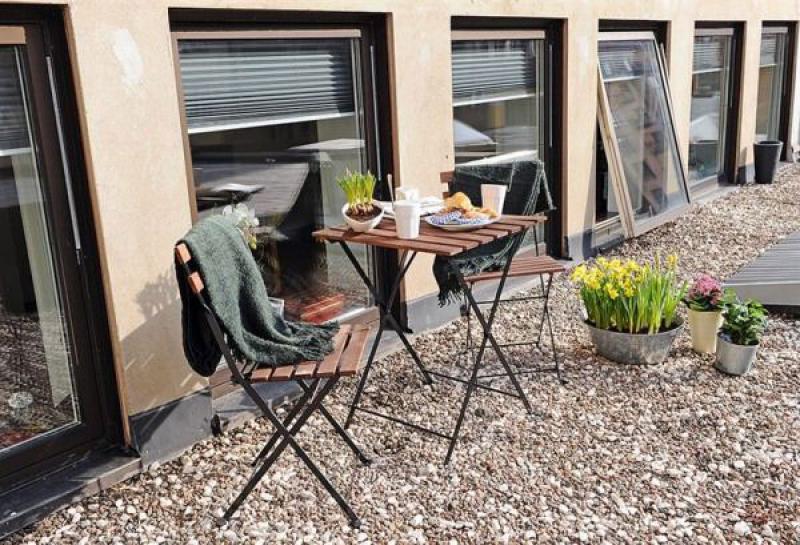 For the ones that don't even have a terrace, there is a solution to every problem. You live on the last floor in your building but you want a nice place to have your morning coffee really, really bad – we share your pain. But there is always the roof. Just place a nice and simple wooden table with a few chairs and you're good to go. Up there may get a little windy, but at least you will have the best view. 
Use your Surroundings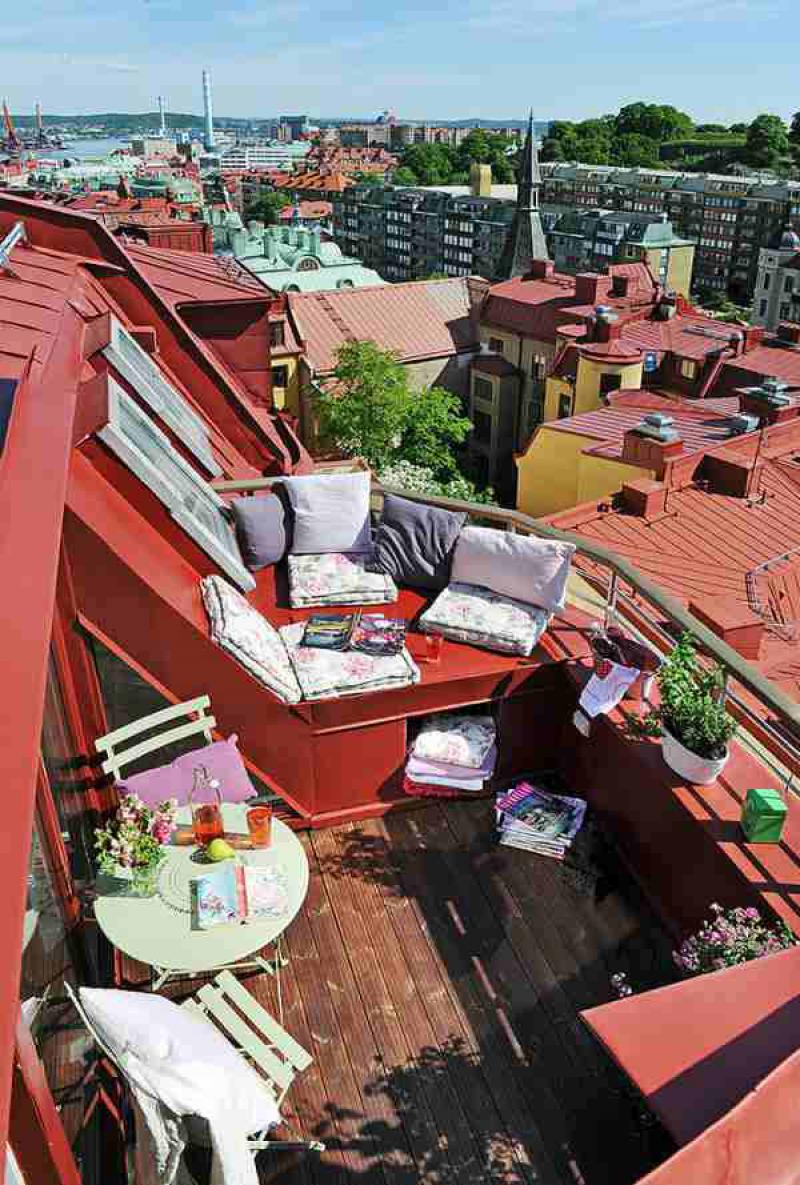 You should always use all the space you've got. Here is a perfect example of that. You live on the last floor, you have a very small balcony and you have a small table for two and a few chairs. But there is the perfect spot under the window! Just place some cushions and you have some extra additional space and it will probably become everyone's favorite as well. 
The Family Pack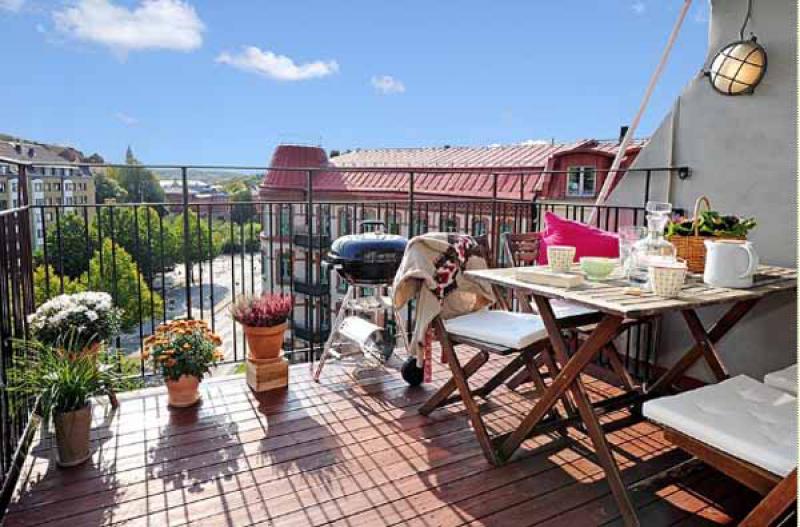 This is basically the perfect terrace for a nice family breakfast, lunch or dinner. It has all the right ingredients: the wooden table with four chairs, some plants on the side and the last but most important – the grill.